Welcome to my first post on this blog! I hope you enjoy yourself here, and I hope I can give you some level of help in choosing your next comic adventure!
First, I'll quickly tell you how this is going to work – I am, personally, awful at waiting for each new comic issue in a series to come out, so I wait for the bind ups. Of course, that could be different for you, but, for me, it works out better if I wait for a bind up.
So, in these monthly blog posts, I'll only be mentioning the bind ups being released that month. I may also mention new series' starting as well, but if I went through every single issue of every single series releasing every month, this blog post would be a mile long, and very difficult to follow!
With that, let's get into the releases of the month!
July 15th
Single Issues:
2020 iWOLVERINE #1 by Larry Hama
In the wake of Arno Stark's crusade against A.I.s, no robot is safe.

Fearing of Elsie Dee's safety in these tumultuous times, Albert, the robot Wolverine, goes to Madripoor to find her but what he finds is a fight against Madripoor's criminal underbelly instead!
Count me as intrigued! I'll definitely be looking into this one, and everything that preceded it!
EMPYRE #1 by Al Ewing and Dan Slott
The Kree and the Skrulls have united under a new emperor – and their war fleet is on a collision course for our world.

On the moon, the Avengers are ready to strike with the full power of Earth's Mightiest Heroes. Approaching from outer space, the Fantastic Four are seeking a diplomatic solution.

If the two teams can't work together to save the day, things can only get worse…
This looks to be Marvel's next big storyline, expect a reading guide in the future, featuring the important bind ups!
Also, the second issue of this series comes out the following week, along with a few tie ins (Empyre Avengers, Empyre X-Men and Emperer Hulking) , so if you want to try reading singular issues out, this is definitely the time to give it a try!
GIANT-SIZE X-MEN: MAGNETO #1 by Jonathon Hickman
HICKMAN & OLIVER MASTER MAGNETISM! Jonathan Hickman continues his one-shots showcasing some of Marvel's best artists! This time, he teams with Ben Oliver (ULTIMATE X-MEN, THUNDERBOLTS) to bring a tale of Krakoan Ambassador and Master of Magnetism, Magneto! Krakoa may be only for mutants, but mutants still need to deal with the human world around them. Magneto has a plan for that.
Krakoa is, again, part of a much bigger storyline, so, again, expect a VERY big reading list!
Bind ups:
The Amazing Spiderman: Full Circle by Nick Spencer, Jonathon Hickman and Gerry Duggan
A summons from S.H.I.E.L.D. leads Peter Parker into a globe-spanning adventure that will test him as never before, one in which the future of all mankind lies in his gloved, webbed hands! Who is the mysterious prisoner in the steel box who keeps propelling the wall-crawler onward? Nick Spencer and an all-star team of Marvel's biggest writers and artists take up the challenge to create the wildest, maddest, most unconventional Amazing Spider-Man story of all! Guest-starring Nick Fury, Wolverine and Peter Porker, the Spectacular Spider-Ham
This is certainly an interesting series – here, Marvel gave several teams of writers and artists to write 10 pages of the story, where they didn't actually know what the story was about until it was their turn to write! I'll certainly be interested in checking out this one, it sounds completely off the wall, but perfect for Spiderman!
ASTONISHING X-MEN COMPANION by various authors/artists
An uncanny array of A-list talents unleashes their unlimited imaginations on the mutants of Joss Whedon and John Cassaday's ASTONISHING X-MEN! Shadowcat, Beast, Wolverine, Emma Frost and the recently resurrected Colossus take center stage in insightful and exciting solo stories! Plus, Bishop patrols the streets of District X, Gambit takes on an expensive mission, Juggernaut tries to become a teacher, Nightcrawler makes a new friend, Angel puts his business skills to the test, Iceman debates retiring from heroism, Cannonball and Sunspot try to get a date – and the astonishing X-Men meet the Runaways! Plus, untold tales of the All-New, All-Different X-Men – and a fresh and contemporary take on the founding of the original team!
Well this is certainly going on my pull list for July! I adore the X-Men, and have Joss Whedon's X-Men run on my July to be read pile! To have a companion series to go along with it sounds perfect to me!
CONAN: SERPENT WAR by Jim Zub
A Conan event for the ages! The man named James Allison will die – and soon. But it's not his first death. James has lived many lives, in many places – lives he can recall in vivid detail. But when an Elder God called the Wyrm reaches across time to contact him, an era-spanning quest begins! The serpent god Set plans to usher in an eternity of darkness, and only the chosen warriors across time and space have a hope of stopping him: Conan the Barbarian, Solomon Kane, Dark Agnes…and the man known as Moon Knight! In an unprecedented comics event, Robert E. Howard's celebrated characters join forces along with one of Marvel's most fascinating heroes, in an all-new saga built on lore from across time itself!
Not going to lie, I've never been interested in Conan, but, I'm certainly interested in the Moon Knight connection.
DEATH OF WOLVERINE PRELUDE: THREE MONTHS TO DIE by Paul Cornell and Elliot Kalan
The beginning of the end for Wolverine! With his healing factor gone, Logan has something to prove. Before he can face Sabretooth again, he'll need to build himself back up, better and stronger than ever – but it's not that easy anymore, and Wolverine will soon find himself turning to other means of revenge. What could make Logan turn his back on the Jean Grey School and his friends in the X-Men? Has he really joined a group of villains? Can Logan conquer his demons, or will his trip to the dark side become permanent? Pete Wisdom and MI13, Iron Fist and Shang-Chi all guest-star as Wolverine prepares for his bloody final showdown with Sabretooth! Plus: With his days numbered, Logan shares a little father-figure time with former sidekick Jubilee!
I haven't mentally recovered from the film Logan (and I probably never will, let's be honest with ourselves here!) and yet, I want to read this. Apparently I like crying!
MS. MARVEL VOL 2: STORMRANGER by Saladin Ahmed
Between her space adventure, her complicated feelings for Bruno and a looming family tragedy, Ms. Marvel really needs a break. Zoe and Nakia decide to get Kamala out of town for a while – but their chill road trip is about to be derailed…by literal corporate zombies
Obviously, it goes without saying get Vol 1 first before buying this one! I haven't really gotten into Ms Marvel, but zombies are always a win in my book!
RUNAWAYS: PRIDE & JOY MARVEL SELECT by Brian K Vaughn
At some point in their lives, all young people believe their parents are evil…but what if they really are? Meet Alex, Karolina, Gert, Chase, Molly and Nico, whose lives are about to take an unexpected turn – when these six young friends discover that their parents are all secretly super-powered villains! Their parents' organization, the Pride, controls all criminal activity in Los Angeles and rules the city with an iron fist. They'll take any measures necessary to protect their secret and pass on their legacy, but the shocked teens want no part of it. Together they run away from home and straight into the adventure of their lives – unlocking powers of their own and vowing to turn the tables on their parents' evil empire! Meet some of Marvel's greatest 21st-century icons in their exhilarating debut!
This is a great starting point for fans of the Runaways TV show! Or, if you're just in the mood to read about teenagers with villainous parents!
THE UNCANNY X-MEN OMNIBUS VOL. 1 + 2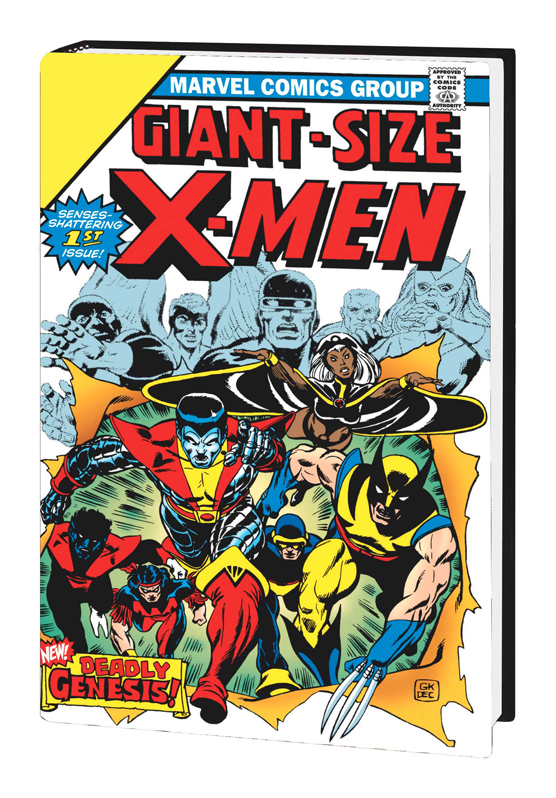 When a young writer named Chris Claremont relaunched the X-Men in 1975, few fans could predict the incredible impact he would have on the series. With a flair for realistic dialogue, heartfelt storylines and hard-hitting action, Claremont's writing breathed life into the characters. In collaboration with artists Dave Cockrum and John Byrne, Claremont crafted a run still heralded as the definitive era of the title. Now, relive the debut of the all-new X-Men, including Storm, Colossus, Nightcrawler and Wolverine! Thrill to their battles against Krakoa, Magneto, Sauron, Proteus and many more – and witness Marvel Girl's transformation into Phoenix! More than just another super-hero title, the X-Men's struggle against prejudice and intolerance has resonated in the hearts of millions of devoted readers for decades.
This month marks the 20th anniversary of the X-Men films, so if you want to get into the comics, this is a fantastic place to start! Personally, I'm not fond of Chris Claremont's writing style, but it could prove perfect for you. Though, be warned, this does come with a hefty price tag of £85, so maybe try to borrow it from the library instead!
July 22nd
Single Issues:
THE AMAZING SPIDERMAN: SINS RISING PRELUDE 1 by Nick Spencer
Who is the Sin-Eater, and why is it so terrifying that he's back? Nick Spencer pulls back the curtain on one of the most dangerous Spidey villains in history. We will not only reveal more of Sin-Eater's secret history but put him on a collision course with Spider-Man that will have you quaking in your seat.
With this being the 1st issue to the prelude, this is a. great place to start with Spiderman comics, as it's right at the start of the story!
Bind Ups:
AMAZING SPIDER-MAN 2099 COMPANION by Nick Spencer
Back to the future! From the pages of AMAZING SPIDER-MAN comes an epic that threatens the far-flung world of 2099 — and its greatest heroes! Conan the Barbarian — trapped in a futuristic world he never made! The Punisher — fighting a war on crime in the streets of Nueva York! Miguel "Spider-Man" O'Hara — facing his destiny! And Ghost Rider — wreaking vengeance in the city that never stops! Plus: Alchemax has the cure for what ails you — and its name is Venom! But will the future know a new Fantastic Four? In an era where everything has changed, there is one constant: Doom!
Again, before you go out and get this one, check out Spiderman 2099, as this ties into that story,
AVENGERS BY JASON AARON VOL. 6: STARBRAND REBORN by Jason Aaron
Starbrand reborn — in the past and present! Brace yourself for an epic space adventure that takes the Avengers to an alien prison the size of a galaxy! There, a mysterious new wielder of the Starbrand has suddenly appeared, unleashing cosmic chaos. But some of the mightiest figures from beyond the stars have been drawn to find the Starbrand as well — and the battle for control of the all-powerful artifact soon rages out of control! Ravaged by their outer space exploits, can the Avengers keep the Starbrand out of the wrong hands? Plus: Get to know the most cosmically powered caveman who ever lived: the Starbrand of one million B.E.!
Again, this is vol 6 in a series, so be sure to check out the first five before you get this one!
ETERNALS THE COMPLETE COLLECTION by Jack Kirby
Imagine a race of immortal beings possessed with seemingly limitless superhuman abilities. Once worshipped as gods, this fantastic group left Earth to explore the stars after warring with the Greek, Roman and Norse pantheons for supremacy over humankind. They are the Eternals, and they are just one part of a cosmic mythology. Their opposites – the Deviants – also secretly populate Earth, while the towering cosmic entities that created both – the Celestials – are fated to arrive and judge our planet. This is but the beginning of an epic cosmology of gods and men that sprang forth from the limitless imagination of Jack "King" Kirby, the co-creator of Captain America, the X-Men, the Avengers and more. Now, Kirby's ETERNALS epic is collected, complete, in this single volume.
Another fantastic start for a super hero team! If you're looking for something. to read before The Eternal's film, you can't go wrong with reading their origins from their creator – Jack Kirby himself!
MILES MORALES VOL. 3: FAMILY BUSINESS by Saladin Ahmed
Ultimatum is here — and New York doesn't know what hit it! But while chasing this mysterious villain from a familiar place, Miles Morales finds himself in an awkward situation involving his uncle. And when something huge happens, the young Spider-Man is faced with a dilemma that could threaten everything he holds dear! Caught in the middle of a war between Ultimatum and the old guard, Miles crosses paths with a classic Spidey villain — and the lives of more than one Morales are on the line! Then, it's thirteen miles from Washington Heights to Brooklyn, and Miles' uncle Aaron is a wanted man. Racing against the clock, with only their wits and their fists, can Spider-Man and the Prowler make it home? And prepare for a deadly rematch Miles never expected to face!
I started this series last month, and it's a brilliant story about Miles, I definitely recommend it!
VENOM VOL. 4: VENOM ISLAND by Donny Cates
Donny Cates' VENOM epic continues in grand fashion after ABSOLUTE CARNAGE, joined by industry legend and celebrated VENOM artist Mark Bagley. That's all you're getting out of us for this one, True Believers! After all, ABSOLUTE CARNAGE isn't quite over yet…
Tell you what, I've never cared much for Venom, but this series is starting to sound VERY interesting to me!
X-FORCE VOL. 1 by Benjamin Percy
X-Force is the CIA of the mutant world – one half intelligence branch, one half special ops. Beast, Jean Grey and Sage are on one side. In a perfect world, there would be no need for an X-Force. We're not there… yet.
I would be lying if I said I wasn't always here for a new X-Force story, especially when it's not the traditional line up!
July 29th
Bind Ups:
AVENGERS EPIC COLLECTION: THIS BEACHHEAD EARTH by Roy Thomas
Roy Thomas' epic AVENGERS run continues with the origin of the Black Panther, the debut of the Lady Liberators, the return of Squadron Sinister and the all-time classic Kree/Skrull War! Caught in the cross fire, Earth has become the staging ground for a conflict of star-spanning proportions! For two eternal intergalactic enemies, the merciless Kree and the shape-changing Skrulls, have gone to war, and our planet is situated on the front lines! Can Earth's Mightiest Heroes, the Avengers, bring about an end to the fighting before humanity becomes a casualty of war? And what good are even a dozen super-powered champions against the vast military machines of two of the great empires of the cosmos?
Another throwback reprint from 1963!
AVENGERS: LIVE KREE OR DIE TPB by Mark Waid
The Kree Empire has fallen – and the Lunatic Legion blames the Avengers! Seeking vengeance, this rogue Kree faction plans to destroy Earth with a massive Nega-Bomb. Can the Avengers locate the fanatics and defuse the situation before the clock ticks down? Meanwhile, the enigmatic Collector has a secret scheme all his own – to kidnap as many Avengers as possible! Years later, the Lunatic Legion returns with a new goal: to mutate mankind into a new Kree race! Quicksilver races to the Avengers' side as the battle to save Earth takes them to the moon – but can Carol Danvers aid the team while dealing with an intensely personal struggle of her own?
The Kree are some of my favourites of the Marvel universe, so this sounds perfect to me!
MS. MARVEL MEETS THE MARVEL UNIVERSE by G Willow Wilson
Kamala Khan is Jersey City's own friendly neighbourhood super hero, and she's making a huge impression across the Marvel Universe – whether sharing an adventure with Wolverine or a Ms. Marvel Team-Up with Spider-Man. Kamala discovers her Inhuman legacy with Medusa and the oversized hound Lockjaw, enjoys spy games with S.H.I.E.L.D., and comes face-to-face at last with her idol Captain Marvel – just in time for the end of the world. Witness Kamala's first adventure with the All-New, All-Different Avengers – and see her join a new generation of heroes in the Champions]. Plus, two young super hero sensations unite when Ms. Marvel meets Moon Girl.
Another Ms Marvel – perfect for any teenager wanting to get into the Marvel world!
SILVER SURFER: PARABLE by Stan Lee
Silver Surfer: Parable collects a two-issue miniseries written by Stan Lee and illustrated by Moebius, orginally published by Marvel's Epic Comics imprint in 1988 and 1989.
It's Stan Lee. How can you NOT want to read a Stan Lee comic?!
SPIDER-VERSE: SPIDER-ZERO by Christos N Gage
Miles Morales falls through a dimensional portal into a new multiversal adventure! Wait, wasn't the Web of Life and Destiny destroyed? Maybe not, True Believer! But who spun this new web? And why? Whatever the answers, the entire Spider-Verse is in big trouble — and it's time to come together once again! Featuring wall-crawlers familiar and new, including a world where Aunt May became the super-powered Spider-Ma'am! Fan-favorite Peni Parker, A.K.A. SP//dr! The beyond-the-grave return of Spider-Man Noir! Sheriff Stacy vs. the Sinister Sextet! And who is…Spider-Zero?! Can Miles and his friends repair the Web and return balance to the multiverse? Thrill to bombastic battles against some of the scariest villains in Marvel history — and #SPIDERSONAS from some of the biggest Spidey fans and creators out there!
Perfect for any fan of Into The Spiderverse and wants more! I'll definitely be picking this one up!
And that is everything coming out in July! I hope this was useful for you, and you found some comics you want to read this month! Tell me down below what you're picking up!